6 ea. steel front Mounts and 6 ea. steel rear Mounts
PLUS
12 of the various aluminum/magnesium castings used on the F-86.
The castings have a combination of NAA inspector's stamps, at least one date that appears to be FEB 19, 1959, different part numbers that are cast-in, roll marked & stamped in ink, many of which are not completely legible. For example, ALCOA castings on the left have 151-61030-4 IN the casting; Magnesium castings left & right of center have 151-61060(?) IN the casting, plus they're ink stamped 191-61070; two center magnesium castings have 140-61061(?) IN the casting, plus they're ink stamped 161-61056. ALCOA castings on the right have 151-61030-3 & -5 IN the casting.
NOTE: WHILE THESE NUMBERS SHOW UP IN THE STOCK LIST PARTS FOR NORTH AMERICAN AIRCRAFT AS F-86A MACHINE GUN MOUNT ASSEMBLIES, NOT HAVING AN F-86 DASH 4, I'M UNABLE TO DETERMINE IF THEY'RE A COMPLETE SET OF ALL 12 CASTINGS NEEDED FOR ONE AIRCRAFT.
- - - - CHECK YOUR MANUAL BEFORE PURCHASING - - - -
Condition is used/shopworn with some wear to the knurling on the knobs,
otherwise very slight weathering and no corrosion, bends or breaks.
* * * * * * F-86 Machine Gun Mount SET: $4500.00 * * * * * *
SORRY, NO INTERNATIONAL SALE OF THESE ITEMS
DISCLAIMER: OPERATIONAL STATUS OF ALL ITEMS IS UNKNOWN. AS USUAL, EVERYTHING IS OFFERED AS COLLECTABLE SOUVENIRS ONLY.
NONE ARE OFFERED TO BE USED OPERATIONALLY, IN AN AIRCRAFT (STATIC OR OTHERWISE) IN ANY OTHER VEHICLE AND NONE ARE
TO BE USED FOR NAVIGATIONAL OR OTHER FUNCTIONAL PURPOSES. PURCHASER ASSUMES ALL LIABILITY FOR END USE OF THESE ITEMS.
WHILE EVERY EFFORT HAS BEEN MADE TO ACCURATELY REPRESENT THESE ITEMS, SELLER WILL NOT BE HELD RESPONSIBLE FOR
INCORRECT DESCRIPTION(S). SELLER OFFERS NO WARRANTY OR GUARANTEE OF ANY SORT, EITHER IMPLIED OR ASSUMED.
PRICE IS SUBJECT TO CHANGE.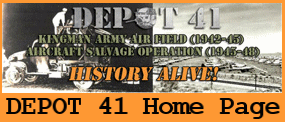 © 2007 - 2022 Depot 41 All Rights Reserved