F-6 Relics?
(chances are, no)
Nearly every combat plane, bomber and fighter alike, had an alter ego in the form of a reconnaissance/camera platform and the P-51 Mustang's was known as the F-6...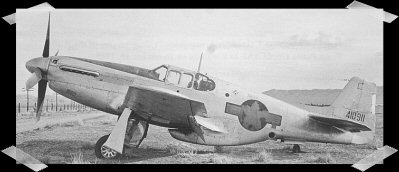 RF-6C-NT #44-10911
R for RESTRICTED USE was added while this Mustang was stationed at Key Field, MS and that indicates this plane was modified extensively enough as to prevent its further use, in this case, as a photo-recon aircraft.
The single K-17/22 or pair of K-24 cameras (note the round glass port below the right Bar of the painted-out Insignia) and armament may have all been removed, which would have accounted for this re-designation.
F-6C-NT indicates it was one of the twenty North American/Dallas ships derived from the P-51C they were producing, which was essentially identical to the Los Angeles-built P-51B.
#44-10911 was assigned to Kingman on March 22, 1946 and along with their A-24 Banshee, this plane is the only other 'one of' known to have been at Sales-Storage Depot No. 41. As with the A-24, its reason for being singled-out and sent there is a mystery.
Years ago I was told this Mustang had been purchased at Kingman and crashed while on its way to a new home. If there were any loose items stripped upon her arrival at Kingman, such as flight records, manuals, etc, I have yet to find them.
The subsequent history of RF-6C #44-10911 is unknown at this time.
photo credit this page:
William T. Larkins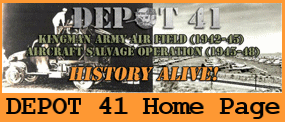 © 2007 - 2023 Depot 41 All Rights Reserved