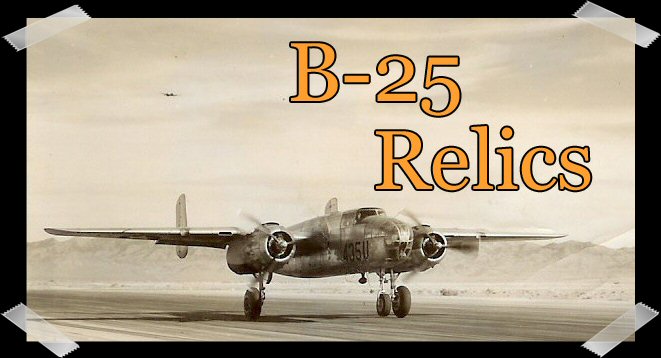 Nose tire nearly touching down
in 1946 for what would be the bomber's final landing - none of these North American ships sent to Kingman are known to have survived - another unsuspecting Mitchell arrives at Kingman.
Probably a TB-25D or J, new information indicates the U suffix in the fuselage code 435U means a Pampa, Texas Twin Engine Transitional School assignment during WWII.
Note the absence of an Upper Turret and the dot above its starboard tail - another aircraft coming in for its final landing.

Kingman B-25 artifacts range from the mundane,
like this box of Main Gear Door Struts,

Pt # 62-335621
| | |
| --- | --- |
| | and these Pilot Seat Base Guides, Pt #62-53055 |
| | |
| --- | --- |
| ... past the interesting, such as my son Brian's 4" X 5" Wing Panel found at our secret Mitchell parking lot in the late 80's... | |
...through the intriguing, like this CORNELIUS Air Compressor & Tank, complete with NAA inspector's stamps, that once charged a B-25's fixed .50 caliber machine guns in the nose & cheek packs...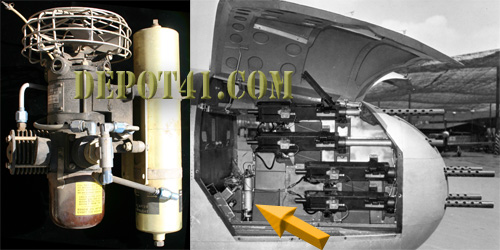 ... up to the historically significant, such as this pair of
Pilot's Instrument Panels...

from
B-25H-10-NA #43-5011 & B-25H-10-NA #43-5003
... both with their matching Load Adjusters!
These are 2 of 4 ultra-rare Kingman B-25H Panels in the Instrument Panel portion of the
Depot 41 Museum Collection.

B-25H #43-4524 in the field at Kingman:

Interestingly, she bears the Air Transport Command logo just forward of the Tail Gunner's position.
The Load Adjuster removed from this Ship resides in the
Depot 41 Museum Collection.

Any hardcore B-25 enthusiast is familiar with the famous 75mm cannon-nosed Mitchell Barbie III of the 1st Air Commando Group.
While there were many North American twin-engine bombers at Kingman, this venerable ship wasn't one of them. Still, there is a Kingman connection...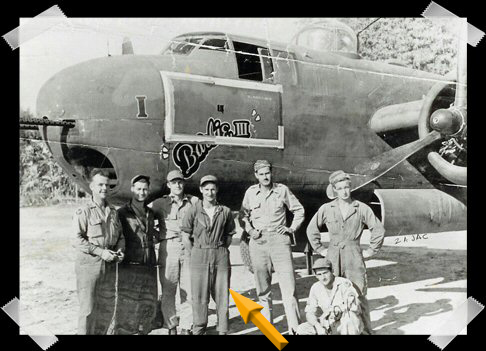 Fourth from left is my friend Chuck Baisden, who was with General Chennault's Flying Tigers before the United States was officially involved in WWII. AVG afficionados should recognize the tall fella to Chuck's left - that was his pilot R.T. Smith, also of American Volunteer Group fame.
Once the U.S. formally entered the fray and the AVG was disbanded, Chuck came back to the States to go through Kingman's Flexible Gunnery Training Program; he then returned overseas to be Top Turret Gunner on the olive drab B-25H known as Barbie III.
A few years ago, I sent Chuck a 13" Kingman B-25 Wing Inspection Panel so he could paint his name on it: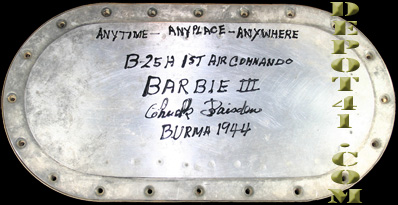 " ANYTIME - ANYPLACE - ANYWHERE "
Thank you, Chuck!
Charles 'Chuck' Baisden passed away on February 21, 2017
If you want to learn more about Chuck's diverse and very fascinating military career, pick up a copy of his book

FLYING TIGER TO AIR COMMANDO:

While on the subject of Panels & green, cannon-nose Mitchells,
here's a 6-7/8" X 7-3/4", silver-painted Kingman panel stamped with part

#98-310943-2:

Inset is North American

Aviation Inspector 95's stamp on the Panel... Number 95, where are you now???
According to the Dash 4, it's a

COVER ASSY - FUS NOSE AMMUNITION CASE DISPOSAL

that was located under the chin of a B-25G or H (since no Gs are known to have been salvaged at Kingman, it must have been from the latter) and the curiously-silver instead of gray paint on this lower panel might still indicate the upper surfaces of the plane were green, but who knows....
photo credits this page:
Angelo Cafcalas,
Chuck Baisden,
William T. Larkins,
Depot 41 Photo Archive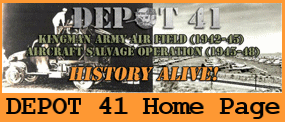 © 2007 - 2023 Depot 41 All Rights Reserved