B-24 Liberator
RELICS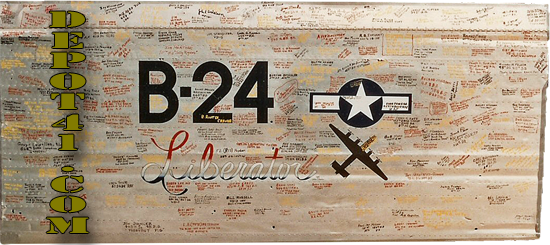 Considering the tons of artifacts in the
Depot 41 Museum Collection,
there's no single piece more awe-inspiring than the 4' X 8-1/2' aluminum assembly above, a Kingman Liberator's left-rear Bomb Bay Door...

In the early 80's, three such Doors were rescued from a Kingman junkyard, one of which had the faint remains of a certain Bomb Group's green stripe (and a Patch that is believed to have once repaired a FLAK or Bullet Hole) is now attached to the underside of the Yankee Air Museum's PB4Y Privateer:
| | |
| --- | --- |
| | (I had to lie on the grass in Michigan to get this image, hence the pale green reflection) |
The second, possibly from a Liberator

of the 784th BS,

466th Bomb Group,

8th Air Force,

still retains a 7" wide yellow stripe running

its length and

currently hangs in our rafters:
The third Bomb Bay Door was the lucky one chosen early in 1989 to be mounted on a custom, rotating stand, then painted with preliminary artwork and taken to the December 1989 San Diego celebration of the 50th Anniversary of the Liberator's first flight, where autographs of B-24 people would be sought (Taking a cue from Boeing's B-17G 5 GRAND, North American's B-25H BONES, Douglas' A-20K CABOOSE, and at least two Liberators named V GRAND).
By the end of this historic gathering (hosted by The Liberator Club), over 275 signatures had been applied to the Bomb Bay Door in paint... signatures from men & even a few women who had, five decades prior, designed, built, worked on and/or flown in the Liberator, both stateside and in overseas combat.
Considered to be historically priceless, this once obscure remnant from an
anonymous Kingman bomber - found in an old Kingman junkyard - is now a main focal point of the
Depot 41 Museum Collection!
Some of the fellas with the DOOR in San Diego:

Former 15th Air Force,

464th Bomb Group member

and my buddy, Art Rawlings

& me with the DOOR

and what he wrote on it:

The 93rd Bomb Group's Lt. Col. Norm Watten is seen here applying his name to the

DOOR

in San Diego.

October 1996:

I contacted James Stewart, Brigadier General, USAFR, Ret. (one of my all-time heroes for many reasons) to see if I could drive the relatively short distance to Beverly Hills in order to get his name on the DOOR. That never happened, possibly due to declining health, but I was able to obtain the former B-24 Pilot's signature on my 1945 LIFE:

Signed "Jimmy Stewart", this extraordinary gentleman passed away in July of 1997.

A late 1990s visit by Dorothy Koenig reunited her with the DOOR and the information she applied a decade earlier in honor of her deceased husband, A.R. Koenig, who navigated Liberators with the 458th BG. Dorothy' became a steadfast supporter and close friend since the day we first met in 1989.

Dorothy Koenig passed away on August 17, 2018.

...And George I. Steinke in 1997, right after he signed the DOOR in paint and from whose legendary junkyard it originally came:
RECENT UPDATE !
The DOOR was carefully loaded into a van for the 400 mile journey north and on February 6, 2011, totally unplanned, but precisely 64 years to the day from when he took his now-famous and historic series of Kingman photographs in 1947, Bill Larkins kindly added his name to the hundreds who have signed this B-24 Bomb Bay Door over the years:
Sadly, I need to report that our friend William T. Larkins passed away on September 9, 2021 - 6 months shy of his 100th birthday
Ever since we first became acquainted in the early 80s, I found Bill to be both kind & extremely knowledgeable, as well as very generous with that knowledge, especially as it related to my Kingman endeavors.
Using his 1947 aerials of the Kingman B-32 Dominators, over a period of years I was able to plot & GPS the precise location where each of the 38 rare and now-extinct bombers rested 70+ years ago. Tongue in cheek, I once told Bill, "Your aerials caused me a lot of trouble!"
Bill was indeed a charter member of The Greatest Generation.
RIP, my friend - you're alongside Tillie once again. . .

B-24 NOSE DOOR
One of the fascinations of the Liberator was its many variations, among which were the cargo/transport models. The Door above was found in a Kingman junkyard in the early 1980s, unceremoniously used to store salvaged automotive fuel pumps. Still in amazing condition, the interior paint has changed somewhat and a rectagonal stress crack patch from its AAF career can be seen to the upper left of center.
One of, if not the oldest Kingman Liberator and originally destined for the Royal Air Force, RLB-30 AL594 at right has what appears to be a non-windowed Nose Door and after being requisitioned by the USAAF, was now wearing the large Air Transport Command insignia and the U.S. Star & Bars.

Another of Kingman's old timers, RB-24A #40-2369 is shown here with her windowed Nose Door swung open - she, too, bore the Air Transport Command insignia. This plane was reportedly named KISSIN COUSIN

One of the few olive drab ships of any type at Kingman and sporting a non-windowed Nose Door, here's C-87-2-CO Liberator Express #42-6985:

B-24J-208-CO #44-41331 at left in the field at Kingman, a Nose Door replacing her Emerson and the other turrets simply faired over. Heavy, now-uneeded turrets were sometimes removed from bombers returning Stateside in order to both reduce weight and increase interior space for additional personnel.

Name: Princess Carol

3+ decades ago, long before Kingman's airport became crowded with industry and the 9/11 attacks mandated much higher security, and well before parked & doomed airliners littered this historic landscape, one was free to roam pretty much wherever one wanted.
. . . Ah, the good old days!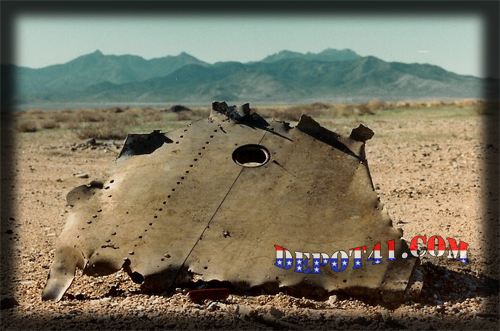 In 1989, next to an unused runway, this B-24 Wing Section offered itself for inclusion to the Depot 41 Museum Collection
Measuring 28" X 36" and weighing 20 lbs, this unique specimen graphically shows what scrappers did to the Bombers & Fighters sent to Kingman...
Photo credits this Page:
Frederick A. Johnsen,
William T. Larkins,
Depot 41 Photo Archive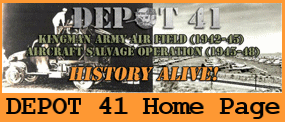 © 2007 - 2023 Depot 41 All Rights Reserved