From its very beginning,
manned-flight has always had an irresistible lure for record achievement and as high
performance aircraft became available on the surplus market after WWII, pilots 'chomped
at the bit' to destroy times set before the War...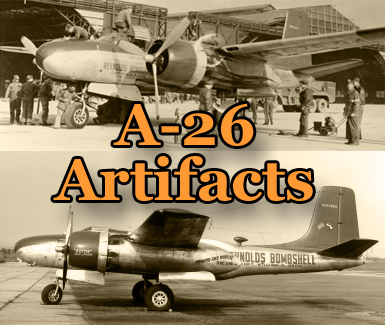 One of around two dozen of its type at Kingman, A-26B #44-34759 was built by
Douglas Aircraft Co. in Long Beach and immediately flown straight to
SALES-STORAGE DEPOT No.41
brand spanking new, never even having been accepted by the U.S. Army Air Forces...
It was purchased specifically for breaking a Howard Hughes record by ball point pen magnate Milton Reynolds, who aptly named this sleek Invader REYNOLDS BOMBSHELL. Together with Capt. Bill Odom as pilot and Tex Salee as copilot, their goal was breaking the Around the World Speed Record.
The breed had a War reputation as being 'fighter-fast' and this Invader didn't let
anyone down, for visible on her left engine nacelle is painted:
"AROUND THE WORLD!
78 HRS. 55 MIN. 12 SEC."
...clobbering Hughes' old record
by nearly 13 hours.
While it's believed that every Kingman Invader had the good fortune of being purchased by the post-War Charles Babb Co. & flown away - each bomber no doubt breathing a metallic sigh of
relief as the smoke from the furnaces faded from view - few, if any, of the loose items
taken out those planes when they first arrived at SALES-STORAGE DEPOT #41 found their way back into the bombers.
Part of the Depot 41 Museum Collection, this is the actual Load Adjuster removed from
A-26B-66-DL #44-34759 as she was signed over to the War Assets Administration at Kingman: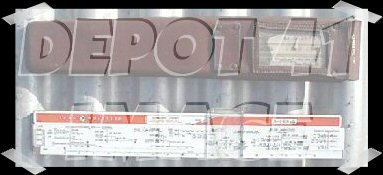 (Image secured to prevent fraud)
has many more details on these intriguing artifacts
in the Depot 41 Museum Collection...

A-26 Armor Panel
Measuring 31-1/2" wide by 44" tall and weighing 114 pounds, this framed Armor Plate was extracted from one of the Kingman Invaders before it flew out again: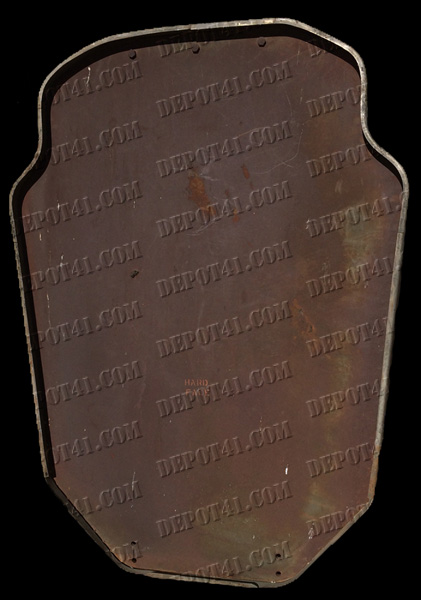 Remnants of painted instructions on the opposite side refer to
"CENTRAL STATION FIRE CONTROL"
plus
"TO STOW TURRETS",
among other subjects.
...This indicates an RCT or Remote Control Turret system, such as those used in Boeing's Superfortress or Douglas' Invader. And while no B-29s were salvaged at Kingman, the Wunderlich operation did destroy several B-24 Liberators from Las Vegas Army Air Field that had been modified as B-29 Gunnery Trainers, fitted with remotely-operated GE Turrets:

HOWEVER, considering just the additional weight & expense, it's highly unlikely superfluous armor would have been installed in these bombers.
Here's a pic from the A-26 E&M that definitely identifies the Armor Plate as coming from a Kingman Invader: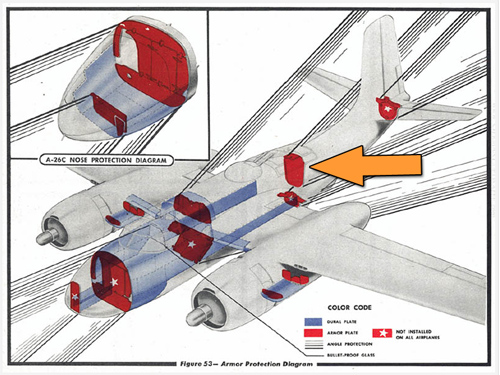 Red indicates steel armor plate and black lines show the angle of protection from incoming rounds.
A rough guesstimate is that there was nearly 1000 pounds of armor in the A-26.
Now, the $64 question remains... did Milton Reynolds buy his Invader from a broker or did he get it directly from Sales-Storage Depot No. 41 and then have Kingman workers remove this particular Armor to lighten his REYNOLDS BOMBSHELL???
The last I heard, this Invader was sitting on an Iranian airfield...

A-26C #43-22649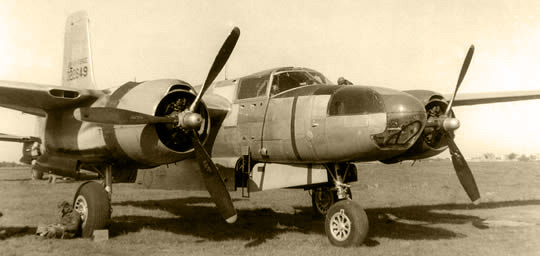 Not directly related to Kingman, just the same...
Back in my airport rat days and while on lunch break at Chino in 1978, I spotted the mangled remains a recent B-26 Invader crash. For some reason, one of the bomber's propellers went into reverse pitch on approach, the results of which appear in my snapshots below (pilot survived with injuries).
A few bucks changed hands and after the fella spent several minutes cutting it off, I proudly carted away this 4 foot, 55 pound souvenir,
one of the wrecked bomber's mangled propeller Blades . . .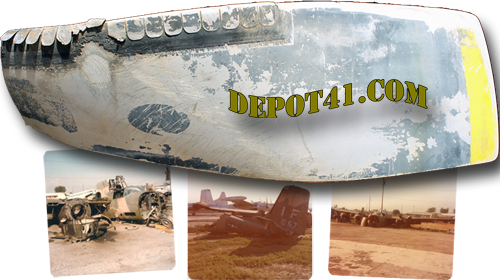 Recent information reveals that (while in its original configuration) A-26C #43-22649 once served with the 9th Air Force, 391st Bomb Group during WWII. After the War, the Invader was rebuilt by On Mark as B-26K #64-17657, whereupon she went back to combat in Vietnam during the 60s.
The cockpit section of the wrecked bomber eventually made its way to England and after much time, labor & expense, it's now on impressive display at the Wings Museum.
photo credits, this page:
Upper image shows
REYNOLDS BOMBSHELL being refueled in
Japan during her record-setting flight.
- courtesy of
Patricia McGinnis / Boeing Archives
Lower A-26 image taken Stateside
sometime after the flight + TB-24 "Z-35" pic courtesy of
William T. Larkins' impeccable photography
- WINGS MUSEUM www.wingsmuseum.co.uk
- DEPOT 41 Museum Collection
Photo Archives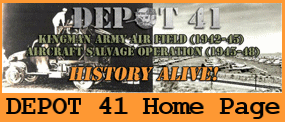 © 2007 - 2023 Depot 41 All Rights Reserved