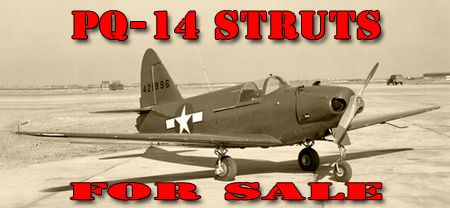 Here are one Main & two Nose Struts believed to be for the
WWII Culver PQ-14 Drone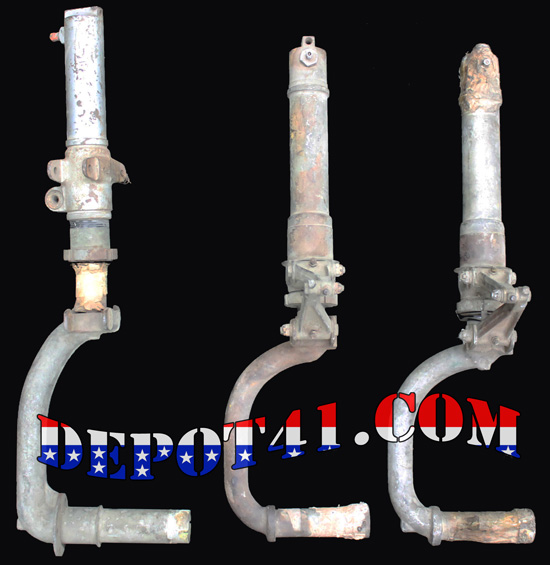 They have tape protecting the threads and appear to be
NOS with 7 decades of warehouse patina.
Check your parts manual
SOLD AS-IS
STRUT SET of Three: $350.00
DISCLAIMER: OPERATIONAL STATUS OF THESE STRUTS IS UNKNOWN. AS WITH ALL OUR PARTS, ALL THREE ARE OFFERED AS A COLLECTABLE SOUVENIRS ONLY. THEY ARE NOT OFFERED TO BE USED OPERATIONALLY, IN/ON AN AIRCRAFT (STATIC OR OTHERWISE), OR IN/ON ANY OTHER VEHICLE. PURCHASER ASSUMES THE RESPONSIBILITY FOR CORRECT IDENTIFICATION OF ALL ITEMS, AS WELL AS ALL LIABILITY FOR END USE OF ALL ITEMS. WHILE EVERY EFFORT HAS BEEN MADE TO ACCURATELY REPRESENT THESE ITEMS, SELLER WILL NOT BE HELD RESPONSIBLE FOR INCORRECT DESCRIPTION. SELLER OFFERS NO WARRANTY OR GUARANTEE OF ANY SORT, EITHER IMPLIED OR ASSUMED.
PRICE IS SUBJECT TO CHANGE.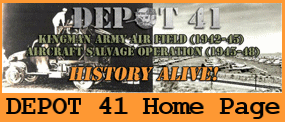 © 2007 - 2019 Depot 41 All Rights Reserved