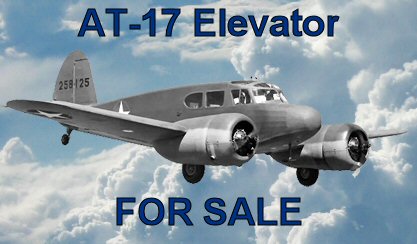 Continuously stored indoors since it was removed from the airplane shortly after WWII, available here is a real nice Elevator Assembly from a
Cessna AT-17/UC-78/T-50/JRC-1 Bobcat
(aka Bamboo Bomber):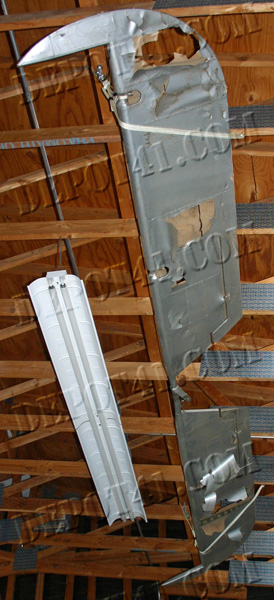 The Elevator Assy is currently hanging from our rafters and still retains most of it's 70+ year old, silver fabric.
AT-17 ELEVATOR ASSEMBLY: $5000.00
(price does not include crating or shipping, if applicable)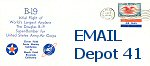 DISCLAIMER: OPERATIONAL STATUS OF THIS ELEVATOR IS UNKNOWN. AS WITH ALL OUR PARTS, IT IS OFFERED AS A COLLECTABLE SOUVENIR ONLY. IT IS NOT OFFERED TO BE USED OPERATIONALLY, IN AN AIRCRAFT (STATIC OR OTHERWISE), OR IN ANY OTHER VEHICLE. PURCHASER ASSUMES THE RESPONSIBILITY FOR CORRECT IDENTIFICATION OF ALL ITEMS, AS WELL AS ALL LIABILITY FOR END USE OF ALL ITEMS. WHILE EVERY EFFORT HAS BEEN MADE TO ACCURATELY REPRESENT THIS ITEM, SELLER WILL NOT BE HELD RESPONSIBLE FOR INCORRECT DESCRIPTION. SELLER OFFERS NO WARRANTY OR GUARANTEE OF ANY SORT, EITHER IMPLIED OR ASSUMED.
PRICE IS SUBJECT TO CHANGE.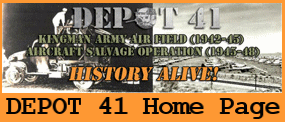 © 2007 - 2022 Depot 41 All Rights Reserved