How & why
does a guy originally from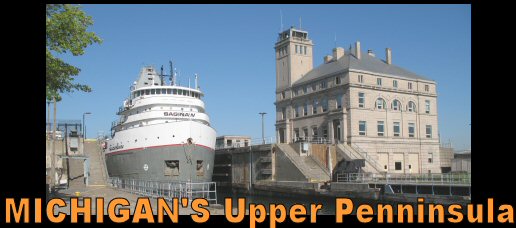 end up out west & spend 35+ years of his life
chasing after thousands of 'mythical' USAAF planes?
Some of the answers are as follows...
WHERE IT PROBABLY ALL BEGAN
1961: In the small U.P. community of Brimley, there used to be the consummate surplus store - genuine G.I. uniforms, backpacks, pocket knives, patches, hats, belts, canteens, tents - all sorts of military stuff piled everywhere, most of which was WWII era. America had produced so many incalculable tons to fight the War that places like this were bursting at their seams for decades. And for anyone experiencing the pleasure of walking into one of these unforgettable places, the aroma was absolutely intoxicating!
My brothers and I left there on one occasion with our precious green canvas goods so we could wage proper war in the woods, but the most important acquisitions of the day were definitely our 'buckle top' boots - the very same kind Vic Morrow wore while toting around his faithful Thompson in COMBAT

Now, if we still had those boots, they might have been valuable, except for the fact that we wore them every day and everywhere until they literally fell apart.
| | |
| --- | --- |
| I do, however, still have my 1964 copy of: | |
Arizona 1966
| | |
| --- | --- |
| The cantankerous 41 Ford old school sandbuggy, my first 'car', purchased from a neighbor in Yuma before I even had a license: | |
This is the vehicle that taught me to cuss - ever change a flathead V-8's oil pan gasket - while laying on your back - in the dirt - with bougainvillea flowers blowing around?!
When the damn thing would run, it was a laugh riot, scaring the daylights outta jackrabbits & my older brother Brad - which turned out to be great training for his future job as
F4 Wild Weasel

WSO in the first Gulf War

.
After moving from Yuma to Kingman in 1970, one of the highlights of my senior year was when our autoshop teacher Mr. Moore (who, by the way, drove a gorgeous brand new, black vinyl topped, Fathom Green SS 454 El Camino) arranged a field trip to the Phoenix Beeline Dragway Winternationals. What an unforgettable thrill it was to watch and hear all my quarter mile heroes pounding the asphalt - Randy Curtis in his wild Corvette wheelstander, "Dandy" Dick Landy, Sox & Martin, Gene Snow and Chevy immortal Bill "Grumpy" Jenkins, just to name a few.
| | |
| --- | --- |
| | I can still smell & feel the 1971 nitro sting while watching Jungle Jim fire-up his blue funny car in the pits and no, Jungle Pam wasn't nearby; I was 17 Heck, I'm a guy and would have definitely remembered her... |
September 2015 Beeline UPDATE
During a recent Phoenix visit, my son & I took a short drive from his house to see what was left of the old drag strip. Beeline Closed in 1980 and even though the clean-up crew had done a meticulous job of removing almost all signs of the Timing Tower, grandstands, as well as nearly every bit of asphalt, we were still able to find an ACCEL spark plug, a valve spring and a precious chunk of that asphalt!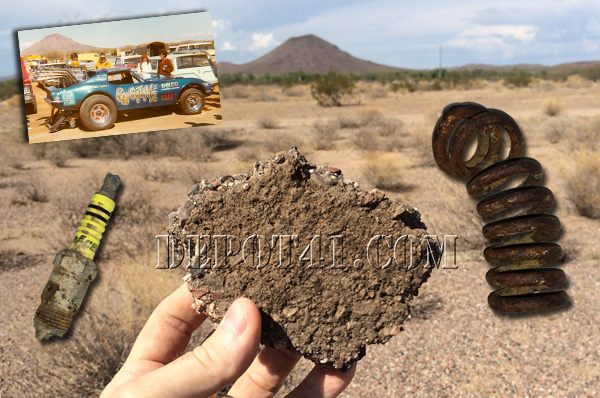 A couple of my rides while in Kingman:

Once the street-fightin Chevelle met an untimely demise, its potent little 283 was transplanted into the former SEARS van. Keep an eye peeled for it - that flat windshielder may still be lurking around Arizona, somewhere!
Following graduation, with some of the drag racing excitement subsiding and while working at a local hotel, I stumbled upon this hauntingly-mysterious and very puzzling b&w postcard that showed hundreds-upon-hundreds of old airplanes neatly lined up somewhere outside of town.
Taken from the air nearly above the same spot as the the newspaper image on the DEPOT 41 Home Page, this picture post card would prove to have a most profound effect on 4+ decades of my life...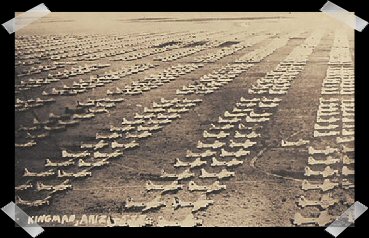 With no airport in sight, the fact that they appeared to be resting quietly amongst the desert sagebrush awaiting some unknown fate seemed very strange indeed and the obvious questions raced through my mind: WHAT kind of planes were they? WHY were they there? WHEN were they there?
And, WHERE are they now?
Little did I know at the time, but the southwestern tip of this airplane parking lot was once only a few thousand feet from the very spot where I had been staring at the postcard.
Ominously though, a seed had been planted...
In the mid 70s

, I ventured out to southern California, hiring on as

a Hooker Industries tube bender...
Here's a couple of their innovative fiberglass Skateboards and a miniature set of small block Chevy headers welded-up by yours truly in 1975 that still adorn my shop wall:

The adjustable tension skateboard on the right was given to me by a fellow employee after his failed attempt to ride it down a Mt. Baldy road - big mistake! Mini headers got the same zinc plating from the big tanks that the full-size ones were dipped into.
1975: I had the computer bender operator make this 'spring' out of 10' X 1-3/4" tubing . . .

It measures 10-1/2" tall by 14" long. Red spray paint was an attempt to prevent rust and considering the unique piece of art is now over 4 decades old, I'd say the crimson coating has done a swell job.
By the late 70s, I was working at Custom Camp Vans as an installer and after learning the trade, my boss picked me to build his brand new Chevrolet (graphics painted by someone else). Once completed, I talked him into driving it the short distance to Chino Airport for a 'professional' photo shoot:
| | |
| --- | --- |
| | Note the warbird parked in the background... that was Planes of Fame's ill-fated North American O-47. |
Shortly after the above image was taken, I happened upon a crew filming an episode of a popular television program involving WWII planes at Chino Airport. As the four 1200 horsepower engines of a B-17 Flying Fortress cranked to a grinding, noisy, smoke-belching start, the experience became absolutely intoxicating. My mind's eye raced back to that bomber postcard, then I thought innocently to myself, "There was a bunch of these planes somewhere at Kingman!"
To quote an oft-used cliche',
THE REST IS HISTORY.
Let the thousands of miles journey of searching, negotating, buying, trading, hauling, storing, moving, investigating, researching, moving again and again, identifying & decades of fun begin..
At first, collecting for the pure and simple fascination of handling these things was my one and only goal. However, after becoming friends with many of the wonderful fellas - as well as many of their patient wives - who actually participated in WWII, some who instructed at Kingman, some who trained at Kingman and some who even once manned the planes that were once parked at Kingman, it became glaringly-apparent that objects from Kingman's Air Field and those U.S. Army Air Force planes weren't mere government excess so commonly found at the local Army-Navy. One could go to any military surplus store and buy anonymous trinkets, but these weren't anonymous trinkets...
THESE WERE PRECIOUS PIECES OF AMERICAN HISTORY
These were the remains of a huge Army Air Base base where hundreds of people trained thousands of gunners that were then sent off to war...
These were fragments of glorious airplanes built by thousands of proud, hard working Americans, financed by millions of sacrificing American citizens...
These were bits and pieces of magnificent Bombers - many having once flown over enemy territory - crewed by thousands of courageous young airmen, human & machine flying as one while being assaulted by exploding cannon shells fired from ground artillery and planes of the opposing side, trying desperately to destroy the impudent aerial invaders...
These were and are very valuable
Historic Treasures
Since opening this page, you've probably been wondering, "OK, but what's with the Stingray?"
In the early 80's, both feet firmly planted into this obsession, the painful realization became obvious that, in order to afford this costly venture, the dream car from childhood,
my

'66 Corvette
would have to be sacrificed. Many might consider it a loss of sanity. Consciously though, I weighed the pros & cons: There are LOTS of Corvettes, and if I ever make enough dough, I can always buy another one.
Besides, the spider-webbed, dusty & mysteriously-fascinating contents of that
rusty old

building seemed to ooze history

and might
just weigh several times as much as the car...
Was it worth it? Oh, it was worth it !
Stay tuned for more revelations, such as:
| | |
| --- | --- |
| What's with "Ernie" the M923 in the yard? | |
| | |
| --- | --- |
| | or "Puller" the M931A1??!! |
Father's Day 2017:

My kids surprised me with this beautiful hood from my all-time dream car, the '70 Chevelle SS 454 in Fathom Blue - Now to find the rest of the car . . .
SUPPORT OUR TROOPS

. . . IT IS FOR THEM THAT I FLY OUR COUNTRY'S FLAG

EVERY DAY
photo credits this page:
Matt Groening
Depot 41 Photo Archive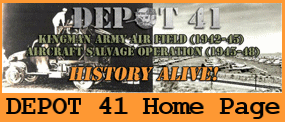 © 2007 - 2023 Depot 41 All Rights Reserved