* * * FOR SALE ! * * *

1 ea. B-17 Navigator's

Compass PANEL

Boeing pt# 15-13874 / pt# 6-16982-1

Available here are several bare phenolic Panels that once held the Navigator's Radio Compass & Flux Gate Compass.

REMOVED FROM KINGMAN FLYING FORTS!

In used, weathered condition / no breaks.

(May require light sanding & a coat of satin black to restore.)

- 1st buyers can indicate which Panel they'd prefer -

B-17 Navigator's

Compass Panel

(used-weathered, in as-is condition)

Price - $89.95 ea.

* International customers will need to inquire about additional postage to their country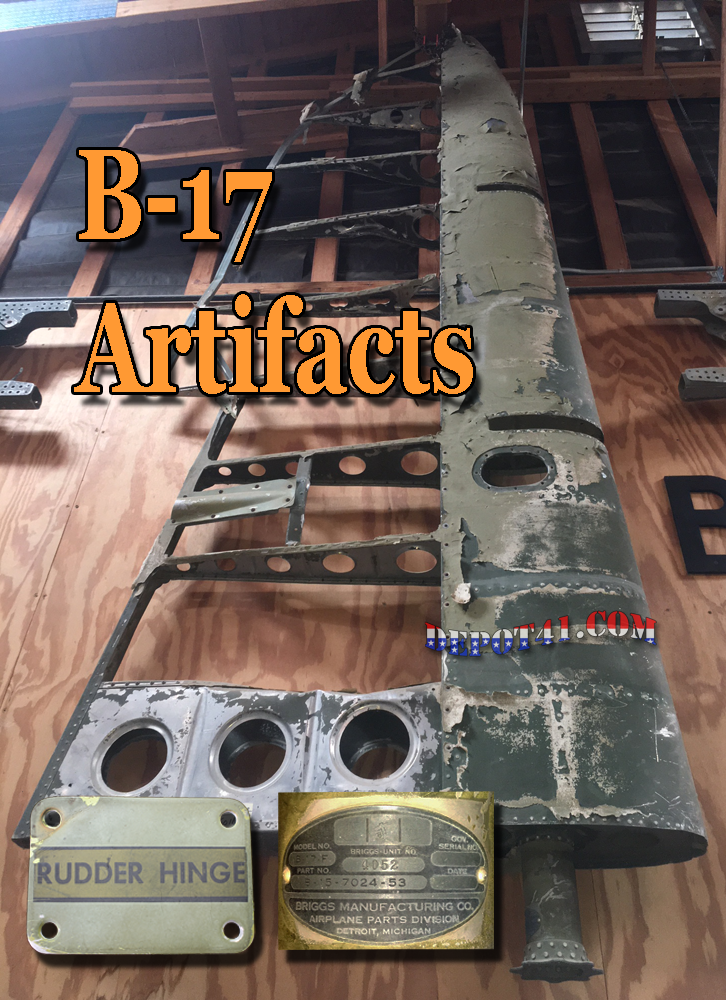 The B-17 Rudder above was discovered laying in a Kingman junkyard in the early 80s and has always been somewhat of a puzzlement because of the fact that the nomenclature plate indicates it's from an F model. Considering G model B-17s vastly outnumbered all earlier models, both serving at Kingman Army Air Field during the War, as well as among the scores sent to Kingman for disposal after the War, for decades I've wondered how this particular piece ended up being the one to survive. . .
Shortly after being carted home, the decaled RUDDER HINGE inspection plate was removed and safely stored indoors and was only recently reunited here photographically. Even though the Rudder had continuously been stored outside until the late 90s, its nomenclature plate remains perfectly intact.
Other interesting points:
- The Detroit BRIGGS subcontractor of this B-17 assembly operated in Ford's 'B-24 territory' and Briggs (along with Emerson Mfr. Co.) also made lots of lower Ball Turrets during WWII.
- The Rudder is 11ft., 8 in. tall and weighs a mere 60 lbs!

Early in the scrapping operation and before things understandably became what might be described as chaotic, procedure called for the removal of minor, loose equipment while the planes were still on the ramp, followed by their being taxied under their own power to assigned areas in the desert where further dismantling occured, including the extraction of oil and fuel...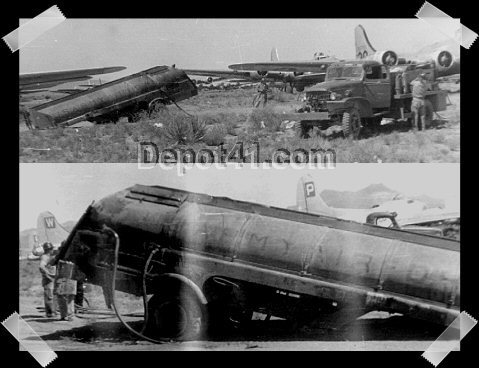 KAAF equipment was leased to the Wunderlich Corp. for use in the salvage process and this USAAF Type F-2A Fuel Servicing Trailer, which only months before filled the tanks of thirsty aircraft, now had its role reversed by capturing thousands of gallons of drained high octane fuel and transfering them back into underground storage tanks.
FURTHER STUDY of these
information-packed photos reveals:
— The trailer's flat tire, broken hoses, kingpin in the dirt and a
Chevrolet 1-1/2 Ton Airfield Crash Truck
with its firemen on scene all point to
some kind of accident... quite possibly the
jarring-loose of the trailer from
its tractor as a result of negotiating
uneven desert terrain.
— Beyond that, in the lower image, notice the chance parking of
the 486th Bomb Group's

B-17
on the left and the 487th's

on the right.
— Still further into the background of the same image, one can see Kingman's towering Hualapai Mountains, silently witnessing the destruction of
THE WORLD'S GREATEST AIR FORCE...
Surrounding a sprinkling of B-17 trainers,
the 8th & 15th Air Forces were each heavily represented at Sales-Storage Depot No.41, specifically by the following Bomb Groups known to have had Fortresses in the fields at Kingman:
34th, 91st, 92nd, 94th, 95th, 96th, 100th, 301st, 303rd, 305th, 306th, 351st, 379th, 381st, 384th, 385th, 388th, 390th, 398th, 401st, 447th, 452nd, 457th, 486th, 487th, 490th, 493rd of the 8th Air Force, the 301st of the 12th Air Force plus the 2nd, 97th, 99th and the 463rd of the 15th Air Force...
What may be its first time in print this complete, the preceeding list was compiled using only identified B-17 Load Adjusters in the Depot 41 Museum Collection, so there's a good possibility additional Bomb Groups were also present.
Now that these facts have been presented, will you agree an overwhelming amount of history was destroyed in this northwestern Arizona town after the War...?

B-17
FRONT ENTRANCE & NACELLE LADDER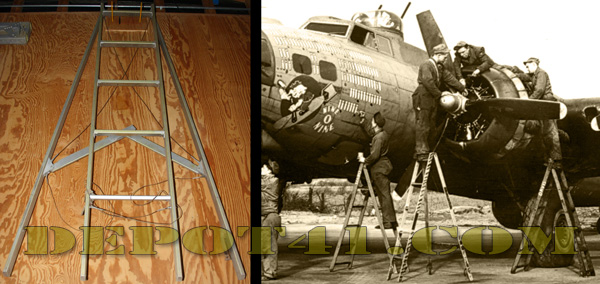 Some have said it never existed, but the nice example in the DEPOT 41 MUSEUM COLLECTION that has Boeing part numbers in the aluminum castings AND the ladder between the pair of wooden ones above beg to differ...
The 91st BG's NINE O NINE was among the many Kingman Forts that had Tony Starcer's renowned artwork brushed on their noses. Alas, both Tony and those bombers are no longer with us.

Among the Flying Fortress treasures in the
Depot 41 Museum Collection
is this Waist Door rescued from another
Kingman junkyard in the mid 80's: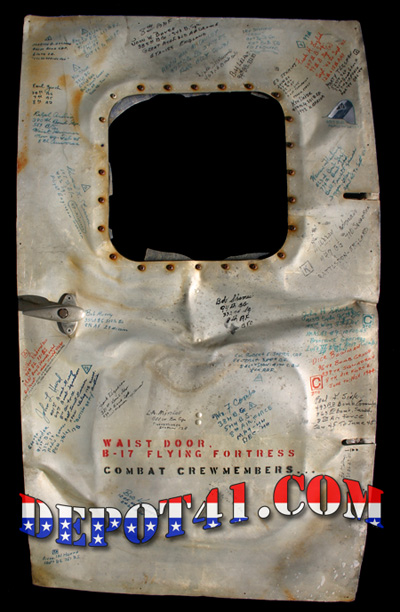 | | | |
| --- | --- | --- |
| This well-worn & relatively rare olive drab Kingman Flying Fortress sports a bare aluminum #4 engine cowl & bare aluminum waist Door, odds are not the the autographed one above: | | The bare aluminum Door on this Bomber indicates its original may have been jettisoned at some point |
It's obvious the wrinkled Door has seen better days, but when originally found it was bent nearly in half.
A policy of never attempting the 'restoration' of these historical objects has been adopted over the years, but this piece was considered unique and therefore worthy of a much higher calling than merely being displayed in a less-than-dignified state, so a careful 'unbending' to a point approaching its original curve was performed.
The writing seen on the Door's skin are personal inscriptions from thirty four B-17 friends I've met over the years, many of whom have left us in the nearly 3 decades since the signing began.
One of my most interesting friends was John Shirley, a wild card who was was sorta famous for riding his big wheel bicycle - that he once coaxed me into pedaling around the parking lot - just once! 96th BG Ball Turret Gunner John was shot down on his 9th mission and spent nearly 14 months as a 'guest' of the Luftwaffe: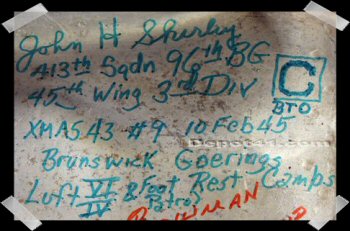 John was the only prisoner the Germans let cross the warning wire in order to retrieve baseballs ... said he acted cuckoo to lead the guards into thinking he was harmless. John Shirley passed away in the 1990s at the Barstow, California Veteran's Home.
Another good friend was "No Extra Charge" Frank English, seen in 1989 with 15th AF ASSOCIATION wooden wings I made for him and what he inscribed on the B-17 Door: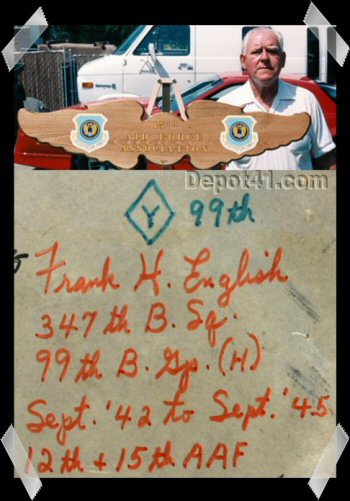 Frank was a Combat Camerman who bailed out of his crippled Flying Fortress over Yugoslavia on August 23, 1944. Despite suffering from injuries, he was able to make his way back to Allied-occupied territory.
Frank passed away on April 12, 2012.
More on those fellas later.

Rolling out of Boeing's Seattle factory just prior the United States' entering WWII, B-17E #41-2405 served throughout the War as a trainer and is reportedly seen here having a variety of practice bombs loaded for a flight to the range in 1942.
Still using their vast stockpile of yellow-painted ordnance when this photo was taken, the USAAF's practice bombs would eventually be painted light blue

from WWII on.
Also beginning in April 1942, the USAAF's new combat bombs would be painted Army Ground Forces OD, later standardized as ANA-613.
This ship, the 146th production B-17 and second oldest Flying Fortress at Kingman (B-17D #40-3097 THE SWOOSE being the oldest), was assigned to Kingman 19 October 1945.

The bomber was destroyed, but its Load Adjuster survives and is part of the

Depot 41 Museum Collection.

For the detail enthusiast, displayed here are the front & back of four Kingman

B-17 Generator Voltage Regulator Shield COVERS. Note that both their labeling and construction differ.
photo credits this page:
William T. Larkins,
NASM,
Depot 41 Photo Archive